Dolomites
Adventure land of ice and snow
And action! Adventures between ice, snow, and rugged rocks
Between thick layers of ice, fluffy powder snow, and impressive rock formations is where you come alive? Then you should definitely spend your winter holiday with children in the Dolomites. Look forward to easy and steep descents as well as mysterious mountain lakes for ice skating.
Toboggan runs in the Dolomites that you must have seen
We, the host families at Familienhotels Südtirol, know the most beautiful toboggan runs in the Dolomites that will delight you. Here is a small but exclusive selection – just for you:
Full speed ahead! That's the motto on the six-kilometre-long toboggan run that leads from the Raschötz high alp to St. Ulrich. A modern ropeway takes you to the mountain top – even at night.
Tobogganing under the sun as well as under the starry sky is possible at Alpe di Siusi/Seiser Alm. Look forward to ten different toboggan runs – one more beautiful than the other. Discover them all!
Make way – on the two toboggan runs in the Obereggen ski resort. The 750-metre-long run is short but sweet. The 2.5-kilometre-long run is great as well.
Breath fresh mountain air at the Laabalm with children's toboggan run and tyre slide as well as on the Liegalm. Afterwards the trail leads through forests and meadows back to Deutschnofen.
The four-seater chairlift takes you from Innichen to Monte Baranci/Haunold. Up on the mountain top, a great panorama and the two-kilometre-long toboggan run await you, which guarantees fun for the whole family.
A quick selfie with the giant snowmen before the toboggan run at Croda Rossa/Rotwand in the Sexten Dolomites takes you back to the valley station of the lift.
Wow, we're sooo fast! The five-kilomtre-long toboggan run, that leads from Staller Saddle to Lake Antholz führt, is a real highlight for those wanting to crown their winter hike with an adrenalin rush.
For real champions: The natural toboggan run from the Brunst Alm to Olang, where World Cup races take place. With every curve your cheeks will get redder and redder. Promise.
The unspoilt Pfunders mountains impress with the 2.7-kilometre-long Moarhofalm natural toboggan run, which you can reach only on foot. After the hike you'll be rewarded with a great toboggan descent.
You can explore the snow-covered Alpe di Luson/Lüsner Alm on foot and with the toboggan. The 5.5-kilometre-long and easy downhill run leads from the Kreuzwiesenalm to the car park in Oberflitt.
Pirouettes in front of a dream scenery
Looking for the perfect backdrop for your ice-skating performance? Head straight to the Dolomites! Here you can expect wonderful frozen lakes and ice-skating rinks, such as:
Pravines ice stadium in Wolkenstein
Ice rinks in St. Christina and St. Ulrich
Völser Weiher at Alpe di Siusi/Seiser Alm
Ice rink in Deutschnofen
Lake Toblach
Aritificial ice rinks in Innichen and Sexten
Naural ice rink in Oberrasen
Ice rinks in Olang
Natural ice rinks in Kiens
No matter whether you start your adventure on snow or ice – all family members will enjoy this holiday in South Tyrol with children. Do you have any further questions? Then do not hesitate to send us an enquiry!
And action! The best adventures around the Familienhotels Südtirol
Mummy, what will we do today? Ask the host families!
Tobogganing & ice skating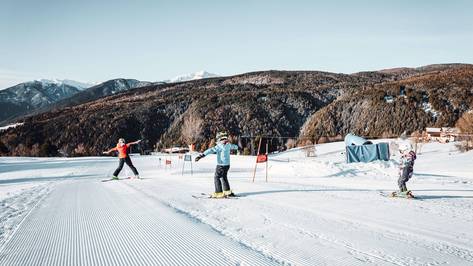 Winter | Skiing & snowboarding | South Tyrol
Winter | Winter highlights | Tobogganing & ice skating | Skiing & snowboarding | Winter hiking | South Tyrol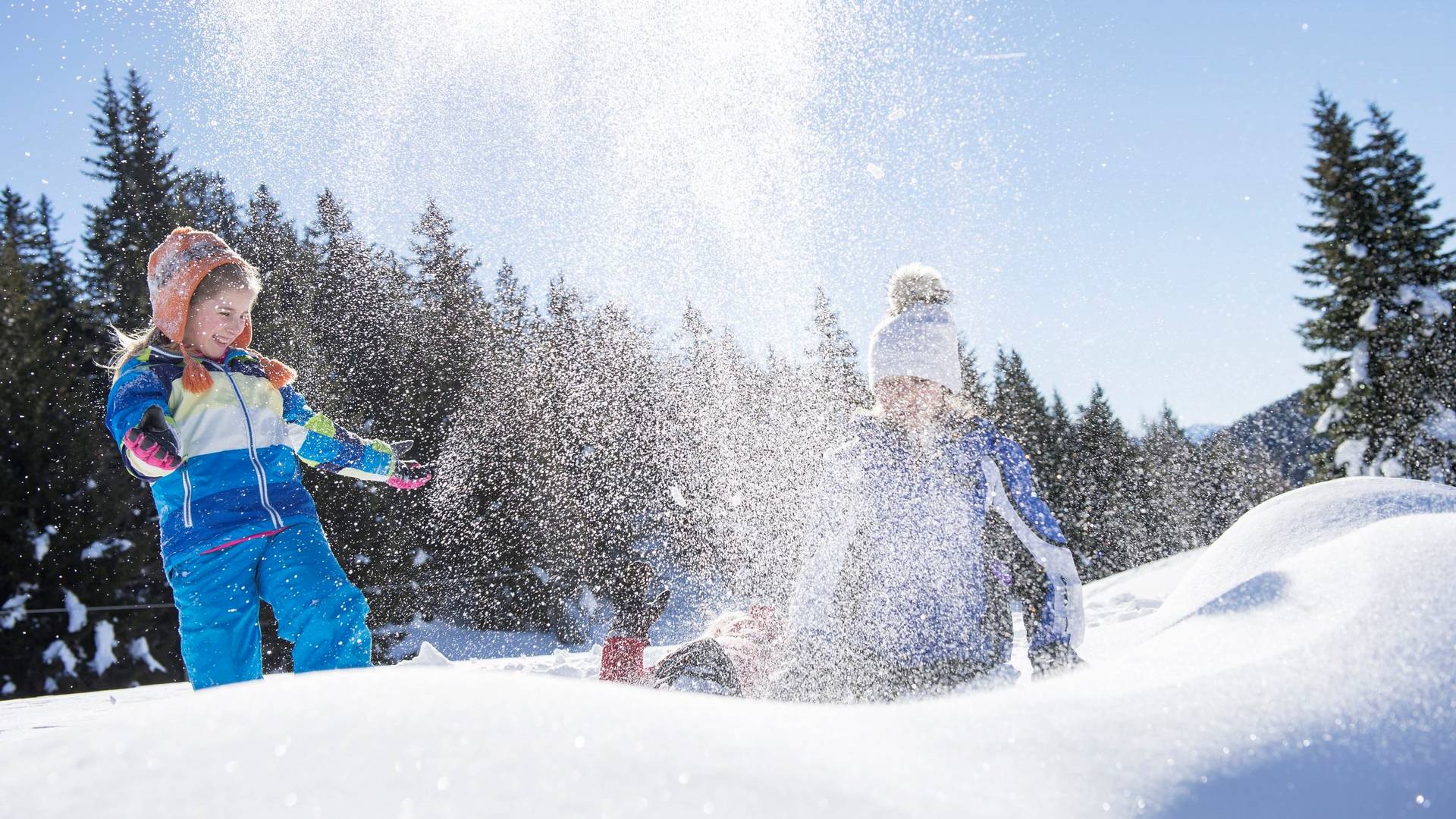 St. Ulrich /Gröden - Dolomites
29.11. – 19.12.2020,
17.01. – 06.02.2021,
...
from
€ 600.00
per accommodation unit
Vals-Mühlbach - Valle Isarco
Ratschings - Valle Isarco
Rasen-Antholz - Dolomites
Just a moment - the content is loading …