Family holiday in South Tyrol: Let the adventure begin!
What do you wish for most on family holiday in South Tyrol? Unforgettable experiences with your loved ones? Exciting adventures in unspoilt landscapes? A really cool and educationally valuable children's programme? A short and relaxing break from the 24/7 job of being a parent? Culinary highlights for young and old? Look no further: you will find all this and much more in our 23 Familienhotels Südtirol. An unforgettable holiday developed by families for families awaits you. A family holiday in South Tyrol filled with moments of happiness. Whether baby or teenager, family with dog, single parent with child, allergy sufferer or animal lover – with our unique, colourful offer it is easy to reconcile the needs of all family members. See for yourself and book your family holiday in South Tyrol right now!
Family holiday in South Tyrol: in best hands
Moments of laughter, exciting adventures, and cuddles – nothing is as valuable as time spent with your family, because it often passes far too quickly. This makes it all the more important to place this time in experienced hands. Into our hands, because we are experts when it comes to creating unforgettable childhood memories that will stay in your hearts forever. We, the 23 Familienhotels Südtirol, are as different as life itself, but we all follow the same quality promise. Our colourful offer, our tailor-made service, our natural and high-quality equipment, our sustainable actions, and our family-friendly programme ensure that your family holiday in South Tyrol will be a joyful one for the children and a relaxing one for the parents. Promise!
Nothing missing during your family holidays in South Tyrol
Geared to families from head to toe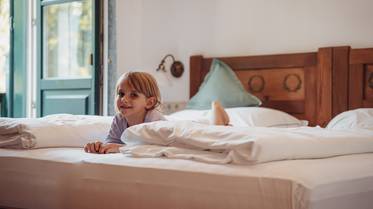 Living
Spacious family rooms, suites, and apartments that can be darkened, with age-appropriate cots
Basic equipment suitable for babies and children, kitchenette and refrigerator
Free rental of strollers, carriers, and prams for your family holiday in South Tyrol
Laundry and drying service or washing machine (at a fee)
Many other additional services depending on the category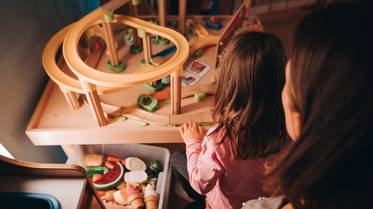 Playing
Childcare by trained professionals for children from 3 years of age
Play area in the hotel with daylight and children's WC
Traffic-free green area directly at the hotel
Outdoor adventure playground and miniature vehicle fleet
Board games, books for rental, and tips for your family holiday in South Tyrol
Other inclusive services depening on the category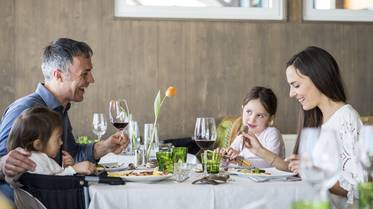 Enjoying
Children are served first on family holiday in South Tyrol
Varied children's menus, predominantly with South Tyrolean products
Buffets (breakfast and salads) at eye level of the children
Children's juice bar during the opening hours of the children's club included
First class drinking water from South Tyrol's mountains
Other inclusive services depending on the category
A typical day on family holiday in South Tyrol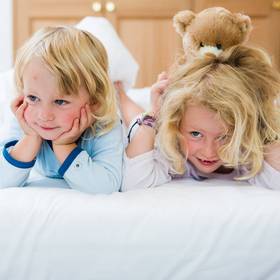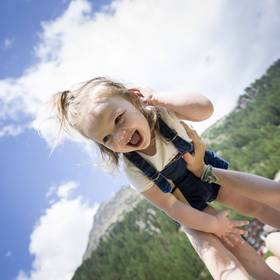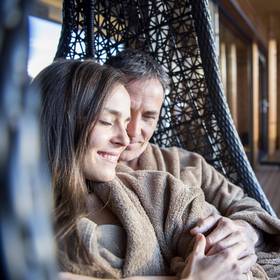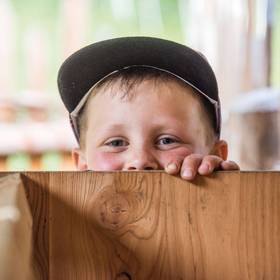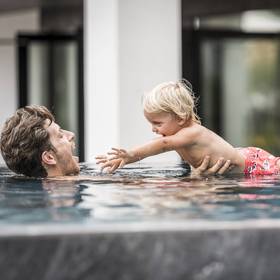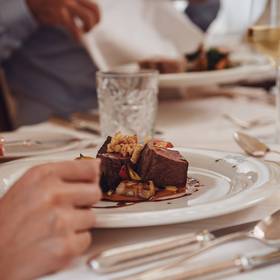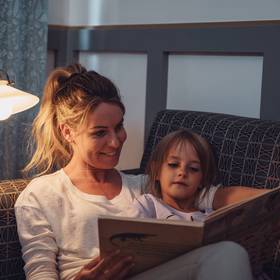 Good morning! Get out of bed and get ready to experience nature with your children. But wait! Before you head out, enjoy your breakfast – with all the delights that South Tyrol and its nature have to offer on a family holiday.
Mummy, daddy, what are we doing now? Nothing is parents' answer, because they deserve a little breather. Doing nothing – without a guilty conscience. When was the last time you could do that? On a family holiday in South Tyrol you can, because ...
... your kids are busy! Doing what? Enjoying the unique Nature Programme by Familienhotels Südtirol. Together with our professional nature educators, they go on an exciting discovery tour in nature, during which many a secret is revealed.
With a rucksack filled with nature experiences you head back to the hotel. Cheeks are red, the joy is great, because only a family hotel in South Tyrol provides children with such fantastic memories. They are sure to tell their friends about their experiences for a long time to come.
After so much action it's time for some relaxation. And what better place than in the pool and wellness area? Get out your bathing clothes, because now it's time to take a dive. And after some sweet cuddles, the next highlight of your holiday for families already awaits you.
Dinner time! The little ones cannot get enough of the delicious children's buffet. Mmmh, so yummy! With a full belly, your children are ready to play. And while they let off steam in the playroom, you can let the culinary creations tickle your taste buds in peace and quiet.
Tired but happy, it's time to hop into the cosy bed of the spacious family rooms and apartments. After a short bedtime story, eyes close on their own. What will your kids dream about? Probably the next adventures that await them in South Tyrol on their family holiday.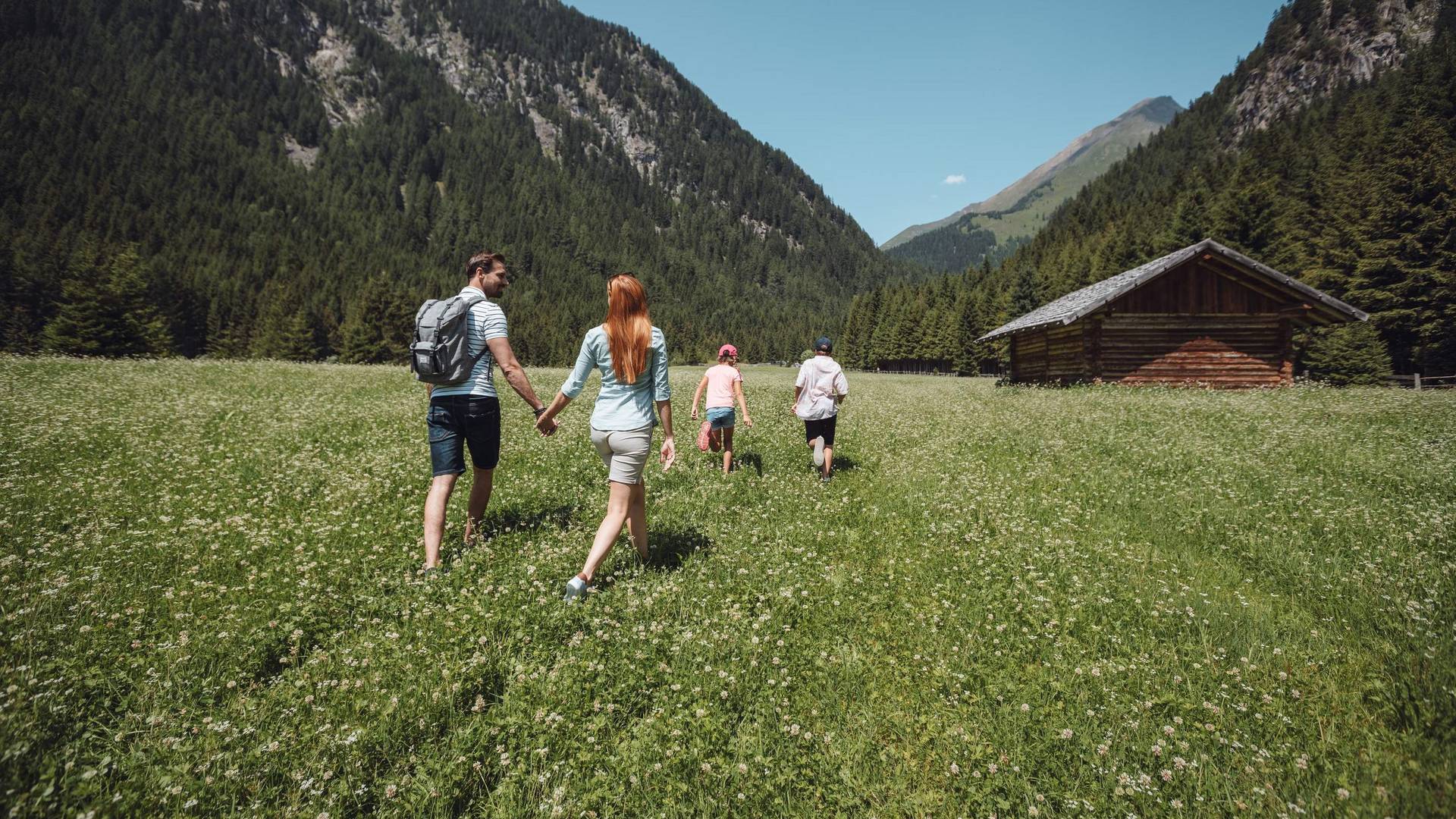 Autumn | Spring | Summer | Natural wonders | Valle Isarco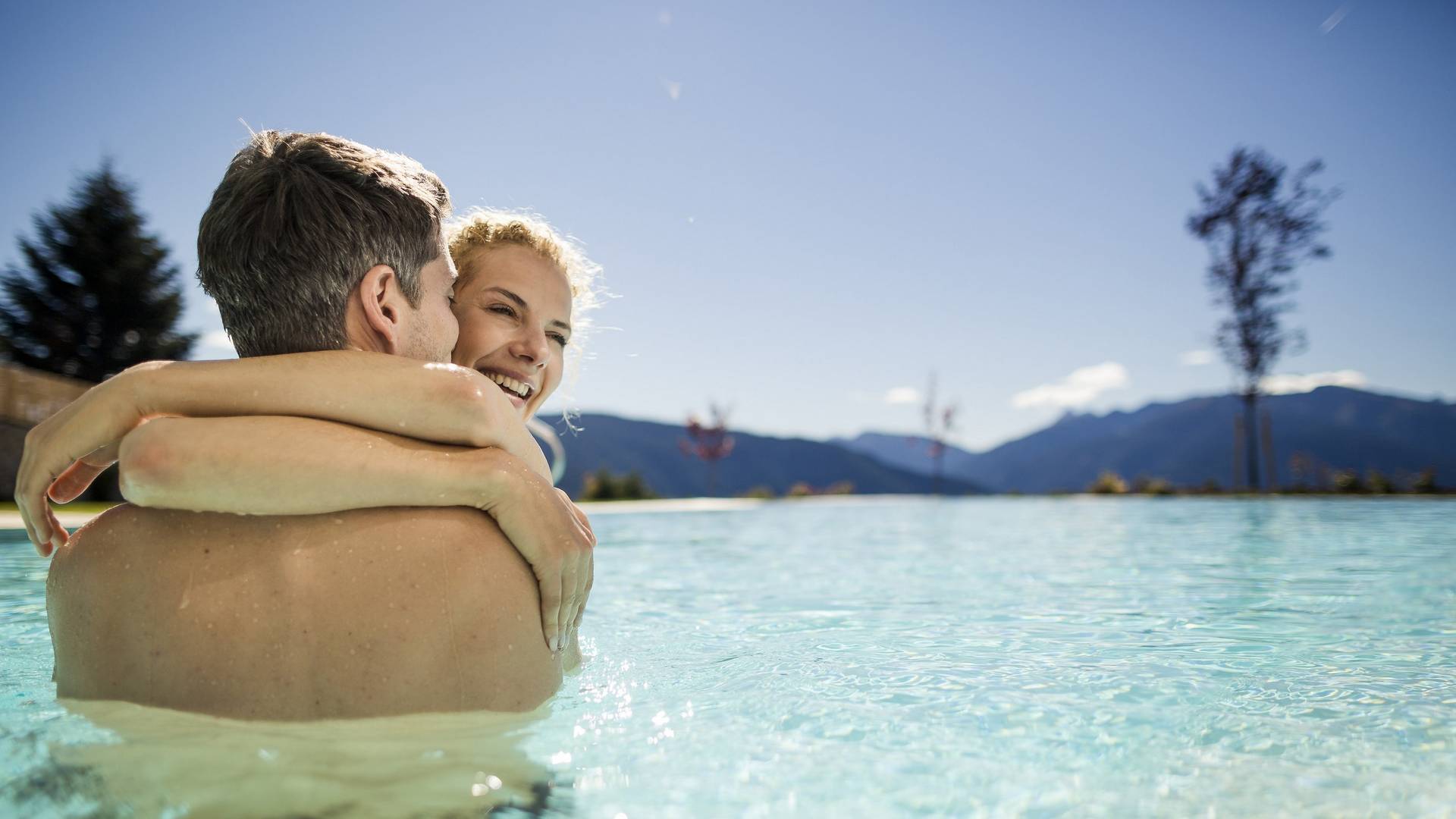 Schenna - Meran & Environs
from
€ 548.00
Price as in offer
Gossensass - Valle Isarco
from
€ 550.00
per person and package
Ratschings - Valle Isarco
02.09. – 29.10.2023,
04.11. – 03.12.2023
from
€ 1,014.00
per person and package
Rasen-Antholz - Dolomites
Schnals - Meran & Environs
from
€ 490.00
per person and package
Naturns (554 m a.s.l.) - Meran & Environs
from
€ 140.00
per person for 7 days
Sexten - Dolomites
from
€ 375.00
721,00€ für 7 Nächte
Ehrenburg/Kiens - Dolomites
from
€ 238.00
per room and night
Meransen-Mühlbach - Valle Isarco
30.09. – 22.10.2023,
05.10. – 20.10.2024
from
€ 1,589.00
7 nights with all inclusive per adult
Tscherms - Meran & Environs
from
€ 271.00
per apartment and night
Rabland/Partschins - Meran & Environs
30.09. – 22.10.2023,
28.10. – 06.11.2023,
...
from
€ 543.00
per person and package
Vals-Mühlbach - Valle Isarco
from
€ 1,382.00
per persona e pacchetto
Obereggen-Deutschnofen - Dolomites
from
€ 763.00
per person and package
Maranza - Valle Isarco
from
€ 355.00
per person ALL-INCLUSIVE
Naz-Sciaves - Valle Isarco
from
€ 1,368.00
pro Person inkl. Verwöhnpension
Trafoi - Val Venosta
from
€ 330.00
per person and package
Olang - Dolomites
from
€ 475.00
per person and package/offer
Oberbozen/Ritten - Bolzano & surroundings
from
€ 800.00
per person and package
Wolkenstein/Gröden - Dolomites
from
€ 444.00
per person and package
St. Christina/Gröden - Dolomites
from
€ 1,120.00
per person and package
Schenna - Meran & Environs
25.12. – 30.12.2023,
03.01. – 07.01.2024
from
€ 405.00
per person and package
Just a moment - the content is loading …