Face to face
Furry holiday fun
Family hotel with farm and petting zoo: fantastic!
Where rabbit, pony, and sheep say good night to you
Wonderfully fragrant herbs, fresh, crisp salad, bright red berries, and much more grow in the picturesque garden. Sheep graze next to goats and calves on the green meadow and in between chickens run excitedly through the fields. Rabbits, guinea pigs, and all their friends are waiting for their daily cuddles in the petting zoo. That sounds like an animal-friendly holiday, doesn't it? In a family hotel with a farm or petting zoo you will get to know the real farm life without having to give up the luxury of a hotel holiday. Your children will love this break from everyday life and will talk about the exciting life on a farm for a long time to come. Whether mucking out the stable, grooming ponies, feeding rabbits, collecting eggs or jumping for hours in the hay – on this family holiday in South Tyrol your children will collect valuable childhood memories and get to know nature with all their senses.
Ready for farm life? Then take a look at our numerous offers and book an extraordinary time out in South Tyrol.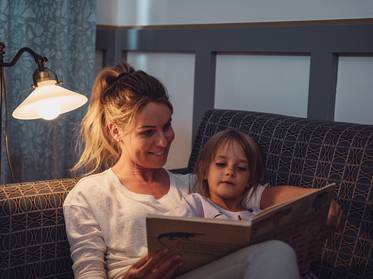 We've got it all! Just like at home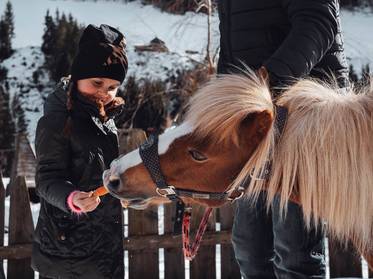 Fun & games for the little ones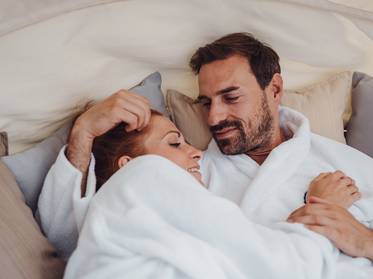 Relaxation for mum and dad
Family blog – the secret tips of the specialists
Autumn | Indulgence | Val Venosta | Bolzano & surroundings | Merano & Environs | Valle Isarco | Dolomites
The family hotels let you live the farm life
This awaits you in the family hotel with farm or petting zoo
Holiday on a farm or in a hotel – you can't decide? You don't have to, because in some Familienhotels Südtirol you can experience farm life with all the comforts tthat only a hotel can give you.
Child-friendly hotel with own farm or petting zoo
Free childcare on 5 days a week
Nature Programme by Familienhotels Südtirol for children from 3 to 6 and from 7 to 14
Spacious indoor play areas and outdoor playground
Swimming pool with children's pool
Varied children's menus and buffets at eye level, partly prepared with products from the own farm
And much more depending on the category
Your tailor-made family holiday in South Tyrol
The right hotel for every family. Guaranteed!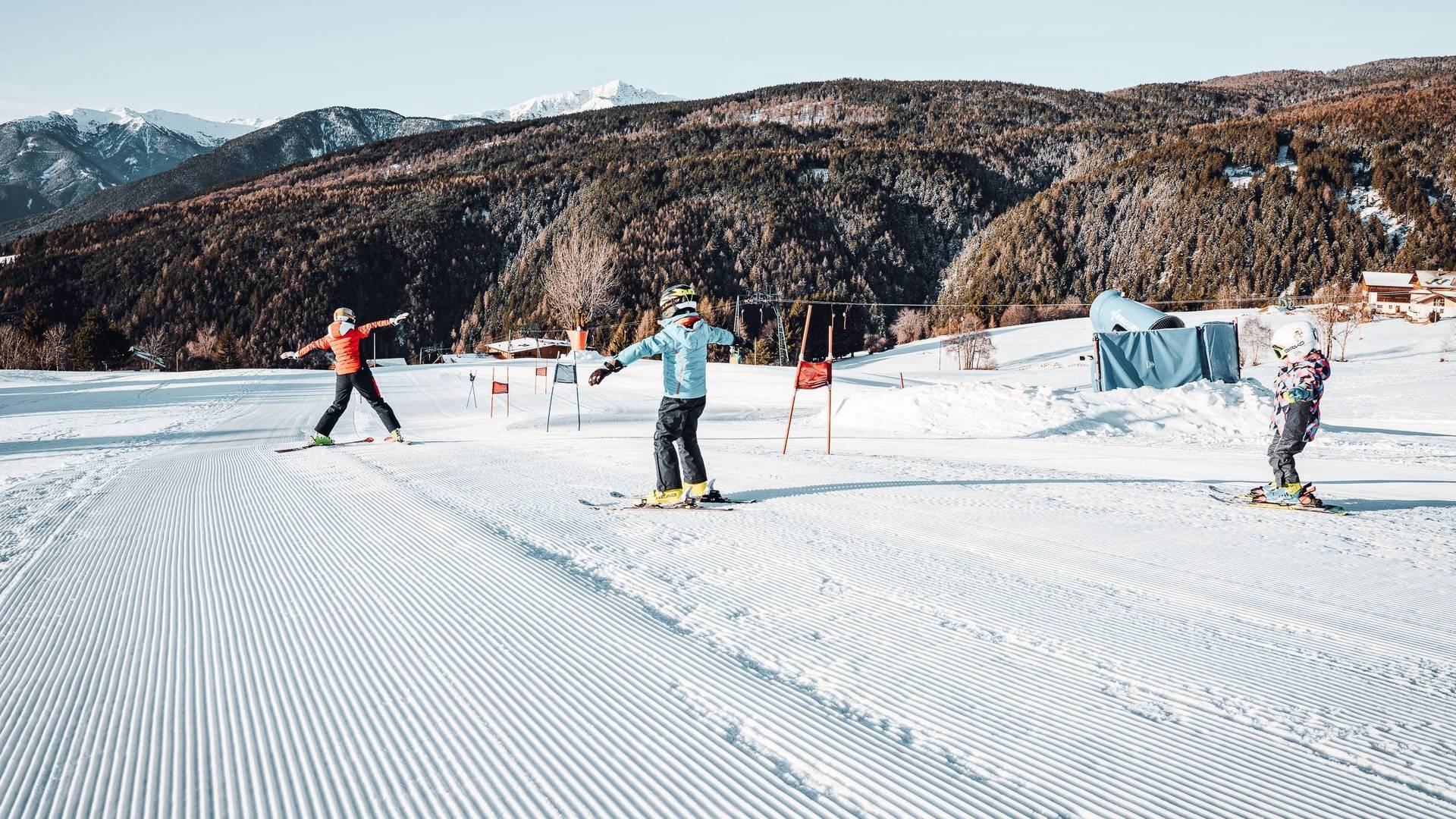 Dolomites – Rasen-Antholz
The Preindl Family
from
€ 350.00
per room and night
Indoor pool or connecting pool
Ski school and ski courses
Valle Isarco – Vals-Mühlbach
Family Stolz
from
€ 160.00
per person and night
Children animation 70 hours per week
Babysitting 48 hours per week
Play barn with climbing wall
Adventure playground in the forest
Heated indoor panoramic pool
Heated outdoor infinity pool
Babypool and giant water slide 45 m
Pony riding and alpaca trekking
Direct location on the hiking trails
Direct location on the slopes of GitschbergJochtal
Jochtal ski school with Quality Award
Dolomites – St. Ulrich /Gröden
The Obletter & Riffeser Families
from
€ 684.00
per accommodation and night
Ski school and ski courses
Valle Isarco – Meransen-Mühlbach
The Pabst Family
from
€ 180.00
per person and night
Indoor and connecting pool
Certified gluten-free rooms
Ski school and ski courses
Dolomites – Wolkenstein/Gröden
The Riffeser Faimly
from
€ 145.00
per person and night
Indoor or connecting pool
Ski school and ski courses
Dolomites – Sexten
The Rainer Family
from
€ 91.00
per person and night
Indoor or connecting pool
Certified gluten-free cuisine
Ski school and ski courses
Bolzano & surroundings – Oberbozen/Ritten
The Holzner Family
from
€ 134.00
per person and night
Indoor or connecting pool
Valle Isarco – Ratschings
The Eisendle Family
from
€ 130.00
per person and night
Ski school and ski courses
Val Venosta – Trafoi
The Gustav Thöni Family
from
€ 110.00
per person and night
Ski school and ski courses
Meran & Environs – Tscherms
Alexandra, Charlotte and Isabelle Zuegg
from
€ 80.00
per person and night
Indoor or connecting pool
Meran & Environs – Schenna
The Gamper Family
from
€ 95.00
per person and night
Indoor or connecting pool