The perfect holiday
with your children
Children's hotel in South Tyrol – always in for a surprise
Surprisingly different – that's how we like to describe a holiday in a children's hotel in South Tyrol. At our Familienhotels Südtirol no day is like the other. The excitement begins upon arrival, which takes you past enchanting castles and palaces, dreamy villages and towns, and majestic mountain peaks directly into the land of plenty for children (and adults): to a specialised family hotel in South Tyrol. You will be impressed when you enter the children's hotel of your dreams. Because we have really thought of everything you need for an all-round successful family holiday in South Tyrol. From the child-friendly equipment, which meets the strict criteria of the German Child Protection Agency (DKSB) and is constantly monitored by TÜV NORD Germany, to the unique Nature Programme by Familienhotels Südtirol developed by children's experts – a family holiday couldn't be any better.
Be on the safe side and book your next holiday in South Tyrol with children in one of the Familienhotels Südtirol. You will be thrilled. Promised.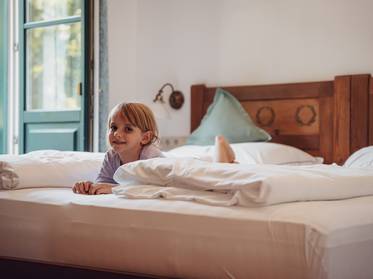 We've got it all! Just like at home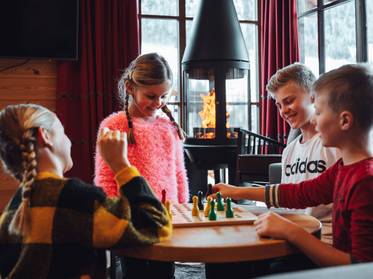 Fun & games for the little ones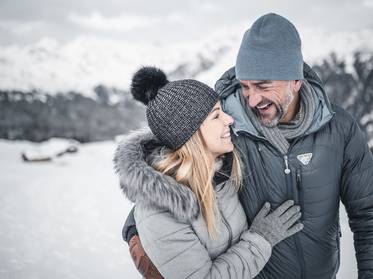 Relaxation for mum and dad
Family blog – the secret tips of the specialists
Autumn | Spring | Summer | Biking & mountain biking | Val Venosta
Children are kings here!
The perfect family holiday! Time out in our children's hotels in South Tyrol
Time flies in the Familienhotels Südtirol. Young and old agree: the holiday in one of our children's hotels was above all one thing – too short. No wonder, our host families will do everything to provide you with an unforgettable stay. Highest comfort and best service are a matter of course, as well as child-friendly premises that leave nothing to be desired. Spacious family rooms or suites, well-equipped playrooms in the hotel, water worlds and adventure playgrounds – in our children's hotels in South Tyrol you will have plenty of room to develop. Outdoors as well, where lots of adventures in the unspoilt nature await you. With so much action, you also need to relax a little in between. While your kids are out and about with the professional nature eductors, you finally have some time for yourself. Sounds tempting, doesn't it?
Your tailor-made family holiday in South Tyrol
The right hotel for every family. Guaranteed!
This and much more awaits you with us
Anyone who has ever spent a holiday in one of our Familienhotels Südtirol will want only one thing: to come back. No wonder, in the specialised family hotels with childcare you can expect an all-round carefree package:
Child-friendly premises
Free child care on 5 days a week
Nature Programme by Familienhotels Südtirol for children from 3 to 6 and from 7 years of age
Spacious indoor play areas and outdoor adventure playground
Swimming pool with children's pool
Varied children's menus and buffets at eye level
And much more depending on the category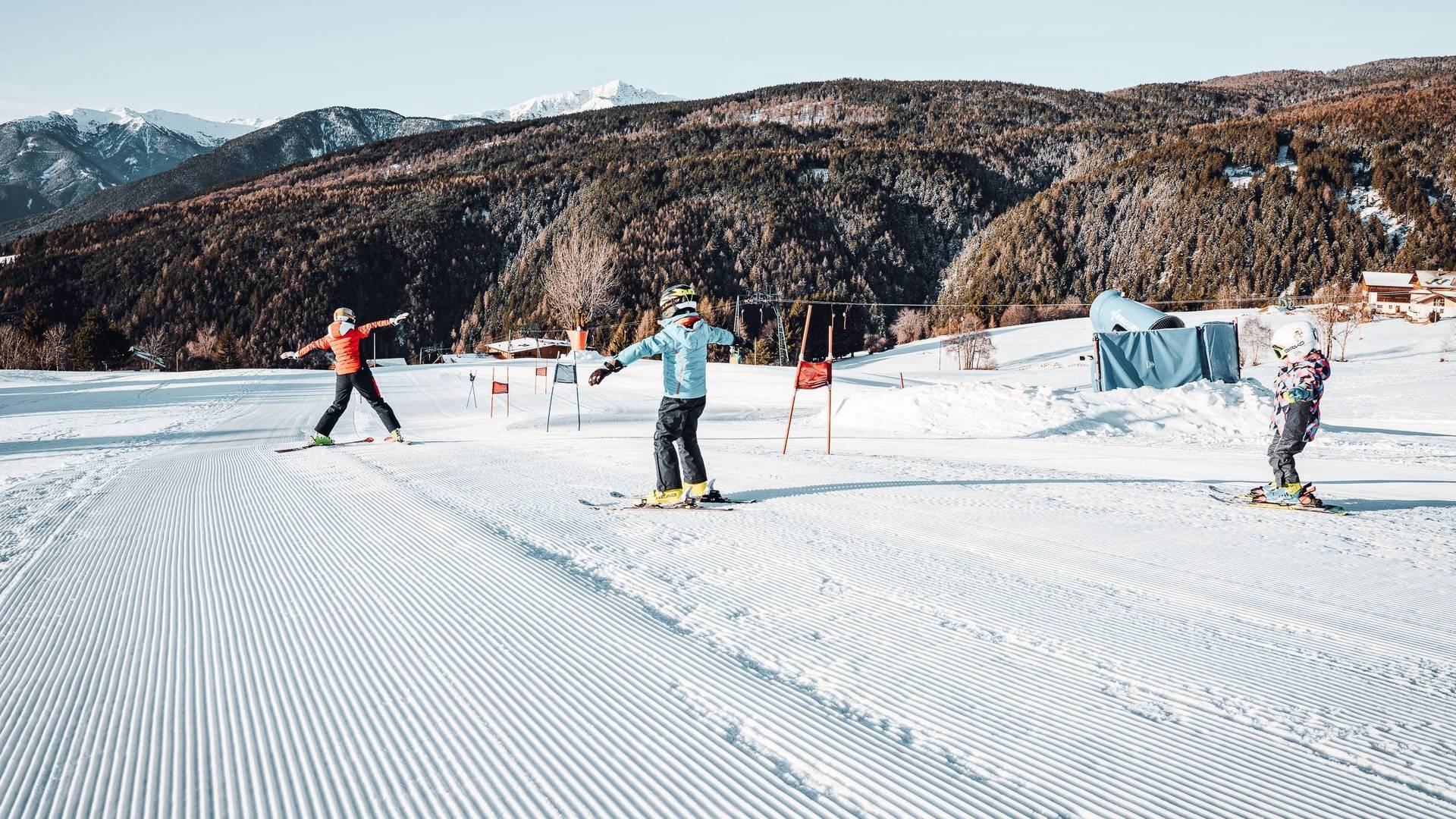 Dolomites – Rasen-Antholz
The Preindl Family
from
€ 350.00
per room and night
Indoor pool or connecting pool
Ski school and ski courses
Valle Isarco – Vals-Mühlbach
Family Stolz
from
€ 160.00
per person and night
Children animation 70 hours per week
Babysitting 48 hours per week
Play barn with climbing wall
Adventure playground in the forest
Heated indoor panoramic pool
Heated outdoor infinity pool
Babypool and giant water slide 45 m
Pony riding and alpaca trekking
Direct location on the hiking trails
Direct location on the slopes of GitschbergJochtal
Jochtal ski school with Quality Award
Dolomites – St. Ulrich /Gröden
The Obletter & Riffeser Families
from
€ 684.00
per accommodation and night
Ski school and ski courses
Valle Isarco – Meransen-Mühlbach
The Pabst Family
from
€ 180.00
per person and night
Indoor and connecting pool
Certified gluten-free rooms
Ski school and ski courses
Dolomites – Ehrenburg/Kiens
The original home of the Falkensteiner Hotels & Residences
from
€ 428.00
per room and night
Massages & beauty treatments
Dolomites – Wolkenstein/Gröden
The Riffeser Faimly
from
€ 145.00
per person and night
Indoor or connecting pool
Ski school and ski courses
Meran & Environs – Naturns (554 m a.s.l.)
The Brunner Family
from
€ 170.00
per accommodation and night
Indoor pool or connecting pool
Meran & Environs – Schenna
The Ainhauser Family
from
€ 75.00
Price per person per night
Indoor pool or connecting pool
Dolomites – Sexten
The Rainer Family
from
€ 91.00
per person and night
Indoor or connecting pool
Certified gluten-free cuisine
Ski school and ski courses
Dolomites – Obereggen-Deutschnofen
The Kofler Family
from
€ 79.00
per person and night
Indoor panoramic swimming pool with massage jets
Bathing area for toddlers
Biosauna and Finnish sauna
Alpine wellness with massages and treatments
Ski school and ski courses
Bolzano & surroundings – Oberbozen/Ritten
The Holzner Family
from
€ 134.00
per person and night
Indoor or connecting pool
Dolomites – St. Christina/Gröden
Elisabeth Ploner with family
from
€ 110.00
per person and night
Indoor pool and connecting pool
Ski school and ski courses
Valle Isarco – Ratschings
The Eisendle Family
from
€ 130.00
per person and night
Ski school and ski courses
Dolomites – Vierschach-Innichen
The Wachtler Family
from
€ 145.00
per person and night
Indoor and connecting pool
90 hours of childcare per week
Certified gluten-free cuisine
Ski school and ski courses
Val Venosta – Trafoi
The Gustav Thöni Family
from
€ 110.00
per person and night
Ski school and ski courses
Valle Isarco – Gossensass
The Ausserhofer Family
from
€ 57.00
per person and night
Indoor or connecting pool
Ski school and ski courses
Dolomites – Seis am Schlern
Petra Mutschlechner with Family
from
€ 90.00
per person and night
Indoor or connecting pool
Ski school and ski courses
6 times a week hiking tours
Meran & Environs – Tscherms
Alexandra, Charlotte and Isabelle Zuegg
from
€ 80.00
per person and night
Indoor or connecting pool
Dolomites – Olang
The Gasser Family
from
€ 104.00
per person and night
Ski school and ski courses
2 km away from the Plan de Corones
Meran & Environs – Rabland/Partschins
The Klotzner Family
from
€ 60.00
per person and night
Indoor or connecting pool
Meran & Environs – Schnals
The Gamper Family
from
€ 69.00
per person and night
Indoor or connecting pool
Certified gluten-free cuisine
Ski school and ski courses
Meran & Environs – Schenna
The Gamper Family
from
€ 95.00
per person and night
Indoor or connecting pool